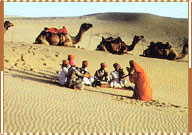 The people of Rajasthan live life to the hilt and nobody can really match the gay abandon with which the Rajasthani surrenders himself to the numerous fairs and festivals that are celebrated here.
Listed here is a very small selection of the countless number of exciting events that are held in Rajasthan throughout the year.
CAMEL FESTIVAL:
Held in Bikaner in January, this celebration has been recently introduction in the desert city with the only camel-breeding farm of the country. Not unexpectedly, most of the events are staged around this beast, with camel races and camel dances. There are also several folk performances. This may also be your chance to experience the rare fire dance staged late at night.
MARWAR FESTIVAL:
Held every October in Jodhpur, this annual event attempts to showcase the art and culture of the Jodhpur region. It is devoted almost exclusively to song and dance. The Maand Festival has become a part of this huge regional celebration.

MEWAR FESTIVAL:
Held to coincide with Gangaur in Udaipur, the whole city turns out to mark the culmination of the 18-days festival, with a procession of floats on Pichola lake.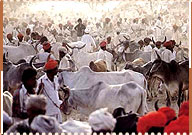 NAGAUR FESTIVAL:
A trading fair for cattle and camels in January – February, it is a wonderful opportunity to catch up on rural life as owners from all over the state come to camp on the outskirts of Nagaur while they buy and sell animals. The hides of the animals, cut into beautiful patterns, are particularly interesting.
NAVARATRI:
The nine days preceding Dussehra are marked by fasting, and one ritual meal a day. The martial Rajputs sacrifice a goat as food for consecration. The worship of their weapons is obligatory, usually in the month of September – October. It is a private celebration with no public fanfare.
SUMMER FESTIVAL:
Held in June in Mount Abu, this is one of few celebrations during the summer months (though it coincides too with the marriage 'season' which spans, according to planetary chartings, from May-July). In the cool environs of the hill town, it is time to relax while folk performances are staged, particularly of the Bhil tribes of the region.
TEEJ:
Another festival dedicated to the worship of Shiva and Parvati, this time it is married women who pray for a long, happy marital life during the monsoon months of July-August. Though celebrations are held all over the state, they are particularly colorful in Jaipur where a procession wends its way through the heart of the old city. Women dress in their finery and spend time in groups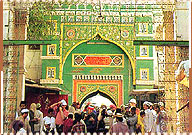 at swings that are specially erected for the festival.
URS AJMER SHARIF:
Held in the holy town of Ajmer in honour of the Sufi saint, Khwaja Moinuddin Chisti, special prayers are offered at the mosque, and huge amounts of consecrated food offered from the large, steaming cauldrons that were a gift from Akbar. While quwwalis -folk songs are sung at night, the celebration unite people of all faiths, and the complete town is decorated with buntings, and wears the spirit of festivity.
Click Here For Fairs & Festival Calender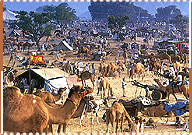 PUSHKAR FAIR:
Among the most easily identifiable of Rajasthan's many fairs, Pushkar has come to symbolize the heartbeat of the people of the state. Held in November in Pushkar, the temple town close to Ajmer, where an 8th century temple of Brahma draws the faithful, it is located on the banks of lake. Pilgrims bathe here and pray in the temple, while the actual fair is held in the vast stretching desert around it. Here, traders set camp to strike deals at India's, and probably the world's largest camel fair, though horses are also sold. It is also a time for friends and families to get together, camp in the desert, entertain each other with folk songs and dances, cook meals over camp fires, and wander through the exuberant melee of people looking for handicrafts, or merely to stand in a queue for the giant wheel… Special tented camps are set up on the occasion for visitors but such is a draw of this fair internationally, that even these are soon exhausted, and people may have to stay in nearby Ajmer, or even as far as Jaipur, visiting here by day
BANESHWAR FAIR:
Held at Baneshwar at the time of Shivratri (January – February), this is a tribal fair on the banks of the Mahi and Son rivers. Bhil tribals from all three states gather here to worship Shiva, and set up camps in this forested area in colorful groups.
CHAKSU FAIR:
A gathering of people from Jaipur's rural pockets collects here in almost all forms of transport – laden into tractor trolleys and jeeps – at what must be one of the most colorful events on the Rajasthani fair calendar.
DESERT FAIR:
Jaisalmer exercises immense charm, but with the staging of the annual Desert Festival (January – February), it has also become one of the stretching sands around this desert citadel. A number of amusing events at the stadium include turban tying competitions and camel races.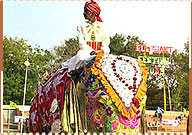 ELEPHANT FAIR:
On the occasion of Holi in Jaipur, this festival of pachyderms includes several interesting attractions including elephant polo. The caparisoned elephants, their bodies painted with floral decorations by the mahouts, are a sight to behold.
GANGAUR FAIR:
Idols of Issar and Gangaur, manifestations of the Hindu God Shiva and Goddess Parvati, are worshipped by women, particularly the unmarried who pray for a consort like Shiva. Celebrated all over Rajasthan, it has women taking processions through the streets of town, carrying images of the divine couple.
KOLAYAT FAIR:
The sacred site where Kapil Muni is supposed to have meditated, a fair is held here on banks of its lake, the air bristling with excitement. Kolayat can be visited from Bikaner.
Click Here For Fairs & Festival Calender
FAIRS & FESTIVALS CALENDAR 2003-2010

Fairs & Festivals
Place
Tithi
2003
2004
2005
2006
2007
2008
2009
2010
Camel Festival
Bikaner
Paush-Shukia (14-15)
17-18 Jan.
6-7 Jan.
24-25 Jan.
13-14 Jan.
2-3 Jan.
21-22 Jan.
10-11 Jan.
31 Dec.,1st Jan.
Brij Festival
Bharatpur
-
2-4 Feb.
2-4 Feb.
2-4 Feb.
2-4 Feb.
2-4 Feb.
2-4 Feb.
2-4 Feb.
2-4 Feb.
Alwar Festival

Alwar

-
7-9 Feb.
13-1 5 Feb.
11-13 Feb.
10-1 2 Feb.
9-11 Feb.
8-10 Feb.
13-1 5 Feb.
12-14 Feb.
Nagaur Cattle Fair
Nagaur
Magh-s (7-10)
8-11, Feb.
28-31 Jan.
15-1 8 Feb.
4-7 Feb.
25-28 Feb.
13-16 Feb.
2-5 Feb
22 -25 Feb
Desert Festival
Jaisalmer
Magh-s(13-15)
14- 16 Feb.
4-6 Feb.
21-23 Feb.
10-12 Feb.
31 Jan.-2Feb.
19-21 Feb.
7-9 Feb
28-30 Jan.
Baneshwar Fair
Beneshwar (Dungarpur)
Magh-s (11-15)
12-16 Feb.
1-5 Feb.
19-23 Feb.
8-12 Feb.
29 Jan.-2 Feb.
17-21 Feb.
5-9 Feb.
26-30 Jan.
Elephant Festival
Jaipur
Phalgun-s-15
17 March
6 March
25 March
14 March
3 March
21 March
10 March
28 March
Shitala Ashtami
Chaksu, Jaipur
Chaitra k-8
24 March
13 March
1 April
23 March
12 March
28 March
19 March
8 March
Kailadevi Fair
Karauli
Chaitra-s (3-4)
4-5 April
23-24 March
11 -12 April
1-2 April
21 -22 March
8-9 April
29-30 March
18-19 March
Gangaur Festival
Jaipur
Chaitra-s (3-5)
4-6 April
23-25 March.
11-1 3 April
1-3 April
21-23 March
8-10 April
29-31 March
18-20 March
Mewar Festival
Udaipur
Chaitra k-1 2
29 March
18 March
6 April
26 March
16 March
3 April
23 March
12 March
Mahavirji Fair
Mahavirji
Chaitra-s (9-1 5)
10-16 Apni
30 March-5 April
18-24 April
7-13 April
27 March-2 April
14-20 April
3-9 April
24-30 April
Summer Festival
Mt. Abu
Baisakh (13-Budh Pumima)
14-16 May
2-4 May
21-23 May
11-13 May
30 April-2 May
18-20 May
7-9 May
26-28 May
Teej Festival
Jaipur
Shravan-s (3-4)
1-2 Aug.
19-20 Aug.
8-9 Aug.
28-29 July
15-16 Aug.
4-5 Aug.
24-25 July
12-13 Aug.
Kajli Teej
Bundi
Bhadra-k (2-3)
14-15 Aug.
31 Aug.-1 Sept.
20-21 Aug.
11-12 Aug.
30-31 Aug.
18-19 Aug.
8-9 Aug.
26-27 Aug.
Ramdevra Fair
Pokaran (Jaisalmer)
Bhadra-s (9-10)
4-5 Sept.
22-23 Sept.
12-1 3 Sept.
2-3 Sept.
21 -22 Sept.
9-10 Sept.
29-30 Aug.
17- 18 Sept.
Marwar Festival
Jodhpur
Aswin-s (14-15)
8-9 Oct.
26-27 Oct.
16-17 Oct
6-7 Oct.
25-26 Oct.
13-14 Oct.
3-4 Oct.
21 -22 Oct.
Dussehra Festival
Kota
Aswin-s(8-10)
3-5 Oct.
20-22 Oct.
10-1 2 Oct.
30 Sept.-2 Oct.
19-21 Oct.
7-9 Oct.
26-28 Sept.
15-17 Oct.
Pushkar Fair
Pushkar (Ajmer)
Kartik-s(8-15)
31 Oct.-8 Nov.
18-26 Nov.
8-15 Nov.
29 Oct. -5 Nov.
17-24 Nov.
5-13 Nov.
25 Oct. 02 Nov.
13-21 Nov.
Chandrabhaga Fair
Jhalawar
Kartik-s 14 Magh-k 1
7-9 Nov.
25-27 Nov.
14-1 6 Nov.
4-6 Nov.
23-25 Nov.
12-1 4 Nov.
1-3 Nov.
20-22 Nov.
Kolayat Fair
Kolayat (Bikaner)
Kartik-s11 Magh-k 5
4-1 3 Nov.
22 Nov.-1 Dec.
12-21 Nov.
1-9 Nov.
20-29 Nov.
9- 18 Nov.
29 Oct-7 Nov.
17-26; Nov.
Winter Festival
Mt.Abu
-
29-31 Dec.
29-31 Dec.
29-31 Dec.
29-31 Dec.
29-31 Dec.
29-31 Dec.
29-31 Dec.
29-31 Dec.