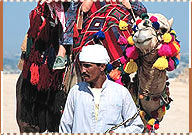 The Pulsating beats of vivid images of Pushkar brings alive the rich tradition of Rajasthan enhancing the glory of the golden sand. Spectacular Fair Ground in the month of Kartik with bedecked Camels, decorated cattles, adventures competitions, breathtaking events, jostling rustic crowd, meditating sadhus, holy dip, vivid stalls, exotic fair, colorful desert, so typical, so obvious, It can be nothing else but Pushkar Fair. An amalgamation of a marvellous juxtaposition of commerce and devotion, Pushkar Fair, a lifetime experience in the very holy land.The fair in conjunction with having religious entity is famous for its Cattle Fair.
Camels, Horses, Donkeys, Bulls, etc are bought, sold, beautified, raced and paraded on the sand. In fact, the fair is predominantly a rural gathering, where villagers from different parts of the state of Rajasthan, comes with their animals and lakes are flooded with the pilgrims for the Holy baths.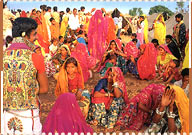 The evenings are possessed with its own charm, lighted diyas creates a spectacular view on the scared lake. The silent night pierced by camel calls, folk lores, dramas and heart throbbing beats of folk music and dances. The fair attracts a great number of tourists from far and wide. The fair grounds reverberate with festivity, as rows of make shift stalls display a bewildering array items. Body tattooing is yet another favorite activity. The profusion of colors that run riot in the desert sand, the glee and the contagious enthusiasm of the village folk are a unique experience for every visitor. 18 - 26th November 2004 are the dates for the fair.
Duration:
15 Nights & 16 Days
Destinations Covered:
Jaipur-Pushkar-Udaipur-Jodpur-Osian-Kuchaman-Sariska-Agra-Delhi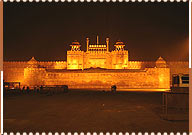 19- Nov - Arrive Delhi
Upon arrival at Delhi airport, you will be received traditionally by our representative and transferred to the hotel. Overnight stay at the hotel.
20- Nov- Delhi
Morning sightseeing of Old Delhi with visit to Raj Ghat: the mausoleum of Mahatma Gandhi followed by visit to Largest Mosque Jama Masjid built by Mughal Emperor Shahjahan. Afternoon sightseeing of New Delhi where you visit Laxmi Narayan Temple, India Gate, the mighty Qutab Minar, the unique lotus shaped Bahai Temple, and Sikh Temple at Bangla Sahib. Overnight at hotel.
21- Nov- Delhi-Jaipur 265 Kms / 5 hrs
Morning drive to Jaipur. Upon arrival in Jaipur, check in into hotel. Jaipur is capital of Rajasthan & Brave-hearted Rajput Rulers ruled over the Golden Desert Land for years and they left their marks in the form of spectacular architectural buildings, which today narrates the stories of that Great Golden era of Rajput rule. Evening visit Laxmi Narayan Temple to enjoy the evening Puja (Prayer). Overnight at hotel.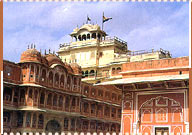 22- Nov- Jaipur
Morning excursion to Amber Fort. At Amber Fort you climb up the fort on Elephant's back like the Maharajas and visit the Amber Palace of the Kushwaha rulers. After visiting Amber fort you can enjoy the demonstration of Block Printing on the way to town. Afternoon visit the City Palace Museum, which contains the original collection of the Maharajas of Jaipur. Jantar Mantar: the observatory on stone and Overnight at hotel.
23- Nov- Jaipur-Pushkar 140 Kms / 3hrs
Morning drive to Pushkar. Upon arrival check in into Tent. Pushkar, the holy city dedicated to Lord Brahma. Pushkar symbolize the delirious heartbeat of the people of colorful Rajasthan state. An 8th century temple of Bramha on banks of a lake draws the faithful by the thousands. Pilgrims bathe at the ghats and pray at the temple while the world's largest camel fair is held in the vast stretching desert around it. You visit holy lake, Ghats & Brahma Temple & enjoy Camel Festival. Overnight at Tented accommodation.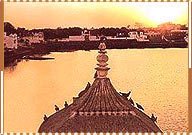 24 - Nov- Pushkar
Day free to witness Pushkar Fare. Stay overnight at Tented accommodation
25- Nov- Pushkar-Udaipur 300 Kms / 6hrs
Morning drive to Udaipur the beautiful city of lakes surrounded by mountains on three sides. Upon arrival in Udaipur, check in into Hotel. (Optional Programme) Evening boat ride in lake Pichola where you visit the Jag Mandir Island with the summer Palace. Overnight at hotel.
26- Nov- Udaipur
Morning visit the picturesque City Palace on lake Pichola, whose one part is a museum and has numerous palaces. Nearby you visit the Jagdish temple followed by Sahelion-Ki-Bari, the "ladies garden" and the beautiful garden surrounding the Pratap Memorial overlooking Fateh Sagar Lake. (Optional Programme) Evening dinner at Taj Lake Palace. Overnight at Hotel.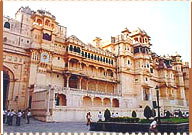 27- Nov- Udaipur-Jodhpur 300 Kms / 6hrs
Morning drive to Jodhpur en-route visits Ranakpur Jain Temple complex. Upon arrival in Jodhpur, check in into Hotel. Evening at Leisure. Overnight at Hotel.
28- Nov- Jodhpur
Morning visits the massive Meherangarh Fort, a symbol of the glorious history of the Maharajas of Marwar Kingdom. You also visit the nearby pure white marble cenotaph of the Maharajas of Jodhpur. Afternoon at Leisure. (Optional Dinner at Umaid Bhawan Palace). Overnight at Hotel.
29- Nov- Jodhpur- Osian 65 Kms / 1 ½ hrs
Morning drive to Osian. Upon arrival in Osian, check in into Hotel. Osian is a small temple town or rather a large village. Though in the medieval ages this was a large and bustling town. Caravans from Arabia, Persia, Afghanistan and central Asia arrived here to trade. Osian was also an important pilgrimage center between the 8th and 9th centuries, apparent from the surviving Hindu temples of the Vaishnava, Surya (Sun) and Shakti (mother goddess) sects. Despite the fact that the ruling dynasty (Gurjara Pratihara) later converted to Jainism, Osian continued to attract Hindu devotees to its temple of the goddess Sachiyamata. This temple is still in use today. Visits Hindu & Jain Temple complex. Evening at Leisure. Overnight at Hotel.
30- Nov- Osian-Kuchaman 250 Kms / 6hrs
Morning drive to Kuchaman. Upon arrival in Kuchaman, check in into Hotel Kuchaman fort, Built atop a 1000 feet high rock cliff, the imposing fort is a rare masterpiece of royal heritage. The fort houses splendid palaces, temples and palatial rooms decorated with exquisite frescoes and murals. Evening at Leisure. Overnight at Hotel.
01- Dec- Kuchaman-Sariska 250 Kms / 6hrs
Morning drive to Sariska. Upon arrival check in into Hotel. The Sariska Park is home to numerous carnivores including Leopard, Wild Dog, Jungle Cat, Hyena, Jackal, and Tiger. These feed on an abundance of prey species such as Sambar, Chitel, Nilgai, Chausingha, Wild Boar and Langur. Sariska is also well known for its large population of Rhesus Monkeys, which are found in large numbers around Talvriksh. (Optional Jeep Safari). Overnight at Hotel.
02- Dec- Sariska-Agra 210 Kms / 5hrs
(Optional Morning Jeep Safari) After breakfast drive to Agra en-route visits Fatehpur Sikri, a city built in red sandstone by Emperor Akbar to commemorate the birth of his son. Afternoon you reach Agra and check-in to hotel. Visit Taj Mahal at the time of sunset, Taj Mahal one of the Wonders of the World, built by Emperor Shahjahan in pure white marble in memory of his beloved Mumtaz Mahal. Evening you can enjoy the demonstration of Inlay on Marble & see how the craftsmen in 17th Century inlaid the gemstones on Marble. The stonecutters & craftsmen are from the same generation who built the beautiful Taj Mahal for Emperor Shahjahan. Overnight at Hotel.
03- Dec- Agra
Morning you can visit Taj Mahal at the time of Sunrise. Afternoon visits visit the massive Agra Fort, which has been the seat of Mughal rulers for several years. The fort has palaces with pavilions, gardens, mosques, baths etc. After that visit Itmad-ud-daula or also known as Baby Taj on the other side of river Yamuna. Evening at Leisure. Overnight at Hotel.

04-Dec- Agra-Delhi-Departure 215 Kms / 4hrs
Check out from Hotel & drive to Delhi. Transfer to International Airport to connect flight back home.
Book This Rajasthan Pushkar Fair Tour